01 October 2004 – 30 January 2005
FABIAN MARCACCIO. From Altered Paintings to Paintants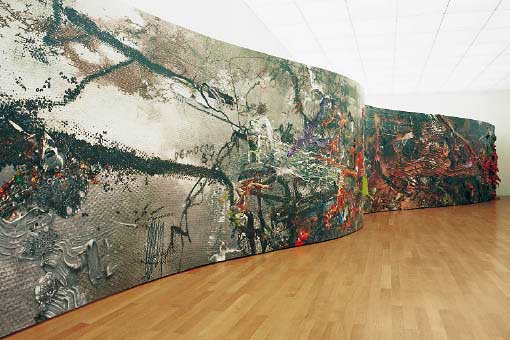 Painting for Fabian Marcaccio is powerful, robust, artificial, and not worrying if it looks beautiful or not. What interests Fabian Marcaccio is how a painting can be made as complex as possible and how it can be composed in time and space out of hybrid materials.

His motifs, borrowed from painting and daily pictorial events, burgeon into scenarios of a terrible beauty, ultimately creating a completely new kind of abstract painting. These expansive works speak about the constant fluctuation of images, people and values at the transition to the 21st century, about globalisation and the market, and about ideological world views and their demise, and they question currents tendencies towards instability and disintegration and the space left for man.

The exhibition at the Kunstmuseum Liechtenstein includes a focused selection of important paintings dating from 1992 to today, the group of drawings "661 Conjectures for a New Paint Management 1989 – 2004", which have never been shown in public, and digital images on plasma screens. Furthermore, Marcaccio has created a new monumental "Environmental Paintant" specially for this exhibition. After Liechtenstein, the exhibition will be shown at Museum DA2 in Salamanca.


Opening
Thursday, 30 September 2004, 18 h
Supporting events: